Throughout the year Sensorium hosts various events which profile the research of Sensorium members, invited artists, and scholars. These talks seek to promote knowledge mobilization, artistic and/or research collaboration, and engage with other disciplines and communities across the York campus.
Winter Lunchtime Seminar Series
The Winter Lunchtime Seminar Series is a weekly event which aims to foster interconnectivity between faculty, graduate students, visiting scholars and artists within the School of Arts, Media, Performance and Design. This casual, lunch time seminar series will host a variety of graduate student presentations, faculty presentations and pitch sessions, open luncheons, topical discussions, invited speakers and external associations or organizations looking to interface with our community and share their work.
---
Winter Lunchtime Seminar Series featuring Graduate VR Artists
Wednesday, March 4th, 2020
11:30am-12:30pm
The Sensorium Research Loft
4th Floor GCFA, Room M333
RSVP to sensinfo@yorku.ca
Join us for our first Sensorium
Winter Lunchtime Seminar Series 
event of March, featuring a panel discussion with VR artists
David Han,
 Michaela Pňačeková and 
Michael Trommer.
David Han is a media artist, scholar and educator whose work employs emerging technology to explore the boundaries between computation, cinema and immersive media. His current practice employs a structuralist approach inspired by early media artists to explore the poetics of virtual reality and aims to expand the range of possibilities for creative practice in VR. His PhD research-creation work, After Dan Graham, is supported by the Social Sciences and Humanities Research Council of Canada and was recently awarded the People's Choice Award for Best Interactive Experience at the Festival of International Augmented & Virtual Reality Stories.
Michaela Pňačeková is an interactive creator, producer and a PhD candidate at York University. Her focus lies in the ways new media impact the real through interaction with algorithmic processes and artificial intelligence. Her first VR piece Symphony of Noise premiered at Reeperbahn Music Festival and IDFA Doc Lab Competition for Immersive Non-Fiction 2019 and was listed as one of the best XR installations of 2019 according to Forbes magazine. She co-produced the VR AI installation Chomsky vs. Chomsky: First Encounter, which premiered at Sundance Film Festival 2020. She is the author and producer of the interactive predictive policing app Pre-Crime Calculator. Since 2014, she has produced three feature length documentaries and two short fiction films, which have been shown at DOK Leipzig, IDFA, Warsaw Film Festival, GoEast Film Festival, Montreal World Festival and more. Graduate of Masaryk University, Czechia. She has received Special Mention at the Bosch Stiftung East European Co-Production Prize 2014, EWA Development Award 2017 and Golden Frog for Best Feminist Play in 2009.
Michael Trommer is a Toronto-based sound and video artist; his experimental work has been focused primarily on psychogeographical and acoustemological explorations via the use of VR, ambisonic and tactile sound, field recordings, as well as immersive installation and expanded cinema. He has exhibited and performed his work at galleries and festivals throughout the world.
In addition to teaching graduate sound design and sound art at George Brown College, Michael also teaches Think Tank at OCAD University and is currently a PhD candidate in Cinema and Media Arts at York University. 
---
Winter Lunchtime Seminar Series featuring Alison Humphrey 
Wednesday, February 26, 2020
11:30am-12:30pm
The Sensorium Research Loft
4th Floor CFA, Room M333
RSVP to sensinfo@yorku.ca 
Please join us for our next Winter Lunchtime Seminar Series featuring Cinema and Media Arts PhD Candidate and Sensorium Graduate Research Associate, Alison Humphrey!

Alison Humphrey plays with story across drama, digital media, and education. As a Vanier Scholar in Cinema and Media Arts at York University, her research-creation doctoral dissertation explores how a participatory science fiction storyworld, Shadowpox, can help young people build scientific, civic and media literacy by exploring immunization and vaccine hesitancy through a superhero metaphor.
The project's first phase, full-body videogame, debuted during the 70th World Health Assembly in Geneva, where The Lancet called it "one of the most powerful and playful ways to illustrate both the individual and population-level implications of community immunity." The second phase is a networked superhero narrative, The Cytokine Storm, co-created with young artists on three continents.
The third phase adapts this narrative into a Scalar-based online platform for a "courseplay", a hybrid undergraduate seminar that weaves academic study with dramatic composition and digital production. Science & Fiction: Imagining Immunity in an Immersive Storyworld takes a new approach to the concept of experiential education: action refraction, where students use metaphoric world-building and digitally augmented role-play to explore one of the thorniest political dilemmas of public health: voluntary participation in the collective good.
For more, please see www.alisonhumphrey.com and www.shadowpox.org.
---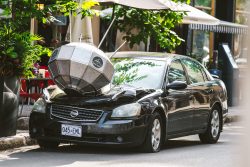 Sensorium Winter Lunchtime Seminar Series Featuring Professor Brandon Vickerd 
Wednesday, February 12th | 11:30am –  12:30pm
The Sensorium Research Loft (4th Floor CFA, Room M333)
Please join us Wednesday, February 12th for our next Winter Lunchtime Seminar Series featuring Professor Brandon Vickerd!
About Brandon Vickerd
Brandon Vickerd is a sculptor whose site-specific interventions, public performances and object-based sculptures act as a catalyst for critical thought and engagement with the physical world. Purposely diverse, his studio work straddles the line between high and low culture, acting as a catalyst for critical thought and addressing the failed promise of a modernist future predicated on boundless scientific advancement. Whether through craftsmanship, the creation of spectacle, or humor, the goal of his work is to provoke the viewer into questioning the dominate myth of progress ingrained in Western world views.
Vickerd's current research engages in enriching public spaces through the development of public art that challenges citizens to reflect on our notions of public space. Projects such as Dance of the Cranes (Edmonton and Washington DC) transform the cityscape through choreographed dances executed by high-rise construction cranes perched upon condos developments. Most recently Vickerd was awarded a commission for a permanent installation for 12th Street S.E. Bridge Public Art Project in Calgary. The resulting artworks was titled Wolfe and the Sparrows and resulted from a three-month collaborative process with the citizens of Inglewood and the City of Calgary. Wolfe and the Sparrows consists of a traditionally rendered monument that appears intact from a distance; however, as the viewer moves closer, the upper body of the sculpture transforms into a flock of sparrows scattering into the distance. Cast in bronze and positioned on a traditional raised pedestal, this sculpture utilizes the language and aesthetic of traditional statuary to actively subvert the authority of public monuments.
Professor Vickerd is principal investigator for the CFI-supported Digital Sculpture Lab at York University, dedicated to studying the convergence of the digital and the physical in art by translating digital code into physical reality." Vickerd has received numerous awards and grants from the Social Science and Humanities Research Council, the Canada Council for the Arts, the Toronto Arts Council, and the Ontario Arts Council.
---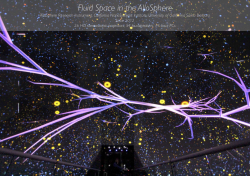 Winter Lunchtime Seminar Series featuring Associate Professor Graham Wakefield
Wednesday, February 5th, 2020
11:30am-12:30pm
Sensorium Research Loft
(4th Floor CFA, Room M333)
RSVP to sensinfo@yorku.ca 
Light refreshments will be served!
Please join us Wednesday, February 5th for our next Winter Lunchtime Seminar Series which will feature a research talk by Canada Research Chair and Associate Professor Graham Wakefield!
About Graham Wakefield
Graham Wakefield joined York University's School of the Arts, Media, Performance & Design in 2014. He is appointed to the Department of Computational Arts, and holds a Canada Research Chair in Computational Worldmaking. He is the founding director of the Alice Lab in AMPD, a facility dedicated to the development of computationally literate art practice and  creative coding software for the construction of responsive artificial worlds experienced through rapidly emerging mixed/hybrid reality technologies. Dr. Wakefield is also a Core Member of the VISTA program.
Dr. Wakefield is an artist-researcher whose contributions include both scholarly research and the creation of works of art. His research-creation is founded upon a trans-disciplinary academic training in interactive art, music, virtual/augmented reality, mathematics and philosophy, partnered with extensive professional practice in software engineering for creative coding in audio-visual, interactive and immersive media.
Graham is an internationally exhibited artist of immersive and mixed-reality art installations, including the series Artificial Nature, an ongoing collaboration since 2007 with artist/researcher Haru Ji. These artworks present experiences of nature as it could be, through interactive worlds in which participants become one more component of an ecosystem, linking the generative open-endedness of biology and computation through aesthetic experience. The installations have been exhibited in numerous venues and events internationally including La Gaîté Lyrique/Paris andZKM/Germany, and have been recognized in peer-reviewed publications as well as organizations such as SIGGRAPH and VIDA.
Dr. Wakefield's research is documented in numerous leading conferences, including a best paper award at NIME, journals including IEEE Computer Graphics & Applications, International Journal of Human-Computer Studies and Computer Music Journal, as well as popular texts such as O'Reilly's Beautiful Visualization. Graham played a central role in the development of software systems and authoring content for the AlloSphere: a three storey spherical multi-user immersive instrument in the California Nano-Systems Institute. Graham is also a software developer for Cycling '74, co-authoring the Gen software used by tens of thousands in the media arts environment Max/MSP/Jitter.
Sensorium Speaker Series
---
from Taien's most recent work Stratigraphic City (2017)
**POSTPONED**
This talk will be rescheduled at a later date. Please Please visit our Contact Page  if you'd like to subscribe to the Sensorium newsletter for updates.
Taien Ng-Chan(Cinema & Media Arts): Places and Things: Locative and Object-Oriented Storytelling
Tuesday, March 20, 2018
GCFA 214 (Faculty Lounge)
12:30 – 2:00 PM
Taien Ng-Chan is a Hamilton-based writer and media artist, whose research investigates everyday urban life through experimental and locative media, cartography, poetry, and documentary. Place and mobility have been central themes in her works, which have been shown across Canada, in the US, Korea, New Zealand, Sweden, and the UK. She has also published four books and anthologies, produced multimedia websites, and written for stage, screen, and radio. Currently, Taien is developing The Trajectories of Things, which proposes to trace the movement of people through objects that act as repositories of memory. The concept is based on the idea of "thing poetry" (as practiced by poets such as Francis Ponge and Pablo Neruda) and what Taien calls "object-oriented storytelling." Taien is a founding member of the Hamilton Perambulatory Unit (HPU), an artist-research collective that gives performative walking events, as well as the NEW Committee, a group dedicated to increasing the visibility of BIPOC artists in the Hamilton arts community.
---

Freya Björg Olafson in 'MÆ – Aftereffect' | Photo: Robbie Sweeny
Freya Björg Olafson (Dance): I POST THEREFORE I AM
Tuesday, February 6, 2018
ACE 311
5:30 – 7:30 PM
In a joint colloquium with the Graduate Program in Dance, we are pleased to have Freya Björg Olafson launch our Sensorium Speaker Series. Freya Björg Olafson is an intermedia artist who works with performance, video, audio, and painting. Her creative practice engages with identity and the body, as informed by technology and the Internet. Olafson's work has been presented in venues around the world, and her video work has screened widely in festivals and galleries. Alongside her university studies, Olafson advanced her training with the Professional Program of the Royal Winnipeg Ballet and Springboard Danse Montréal. With support from San Francisco's CounterPulse, she is currently developing a project incorporating virtual reality, slated to premiere in 2018.
Peripheral Visions Speaker Series
Public Lecture & Masterclass with Professor Hannah Thompson
We are pleased to welcome Professor Hannah Thompson for the final Master Class and Lecture in the Peripheral Vision Speaker Series! Join us this Thursday, March 28th for The Aesthetics of Audio Description Master Class.
Thursday, March 28th 11:00am-1:00pm
Sensorium Research Loft (M333), 4th Floor GCFA, York University.
Wheelchair Access | ASL Interpretation Provided
To RSVP email pvl@yorku.ca
This class will use insights from critical disability studies to explore how audio description might enhance the aesthetic experience of both blind and non-blind beholders. Drawing on articles published in the 2018 special issue of Disability Studies Quarterly, 'Blindness Arts', we will explore what non-visual ways of engaging with art and artefacts might teach the visually dependent world. When it is made available to everybody and included in the conception of an exhibition or artwork, can audio description be celebrated as a privileged example of "blindness gain" which works to challenge ocularcentric understandings of the hierarchy of the senses?
Friday evening the Peripheral Visions Speakers Series, Tangled Art + Disability and the Bodies in Translation Project present "Blindness Gain and the Art of Non-Visual Reading" a public lecture which celebrates the critical and creative power of blindness.
Friday March 29, 6:00-8:00pm, reception to follow
Location: Tangled Art + Disability, 401 Richmond Street
Wheelchair Access | ASL
Through a discussion of examples from 19th century French literature and art, Professor Thompson will argue that blindness is a fruitful theoretical stance available to both blind and non-blind people, Thompson's Critical Disability Studies approach will dismantle the traditional hierarchy of the senses and invite new ways of beholding familiar texts and images.
BIO: Professor Thompson has published widely on French literature and theory, the body, gender, sexuality and disability. She is the author of three books on French literature and culture including Reviewing Blindness in French Fiction (1789-2013) (Palgrave, 2017), which marks the start of Professor Thompson's influential work on the cross-overs between French Studies and Critical Disability Studies. Professor Thompson has published two edited volumes: New Approaches to Emile Zola and Corporeal Practices: (Re)Figuring the Body in French Studies (with Julia Prest). In 2015 she co-organised the Blind Creations conference and micro-arts festival with Vanessa Warne and she is the author of the popular Blind Spot Blog.
The Peripheral Visions Speakers Series is a partnership of the Sensorium Centre for Digital Arts and Technology, VISTA: Vision Science to Application and the Peripheral Visions Lab. This event is co-sponsored by Tangled Art + Disability, Bodies in Translation: Activist Art, Technology and Access to Life, the Graduate Program in Critical Disability Studies, The Departments of Theatre and Cinema and Media Arts, and the Performance Studies (Canada) Speaker Series. We are grateful for support from the Canada Research Excellence Fund and the Social Sciences and Humanities Research Council of Canada (SSHRC).
The Peripheral Visions Speaker Series is co-curated by Mary Bunch, Laura Levin, and Lauren Sergio.
---
Public Lecture & Master Class with Dr. Kelly Fritsch 
Please join us for the next event in Peripheral Vision Speaker Series as we welcome Professor Kelly Fritsch. Kelly Fritsch is an Assistant Professor in the Department of Sociology and Anthropology at Carleton University in unceded Algonquin territory whose work research broadly engages crip, queer, and feminist theory to explore the relations of disability, health, technology, risk, and accessibility.
Masterclass @ York University
Crip Technoscience for Disabled Cyborgs: Access, Community, Politics
Thursday, March 21, 2019 | 11:00am-1:00pm | Sensorium Research Loft
4th Floor of Goldfarb Centre for Fine Arts
York University, 4700 Keele Street
For accessibility and to RSVP please contact pvl@yorku.ca
Kelly Fritsch engages with the emerging field of crip technoscience, exploring what it means for disability politics, community, and access. Taking up Alison Kafer's provocation that disabled people are cyborgs because of their politics rather than their impairments, Fritsch explores the ways in which disabled community forms out of frictional and ambivalent relations to technoscience, marking out the implications of these relations for social justice practices.
Public Lecture @ OISE
Crip Commitments: Disability, Theory, Politics
Thursday, March 21st, 2019 | 6:00-8:00pm | OISE Library
University of Toronto, 252 Bloor St. West
All Welcome – Free | Wheelchair accessible | ASL | Refreshments
For accessibility or additional information,
please contact uoftdisabilitylistserve@gmail.com
New College Disability Studies Speaker Series in collaboration with York University's Peripheral Vision Speaker Series present the public lecture, Crip Commitments: Disability, Theory, Politics. Engaging the frictions of crip and disability theory, Kelly Fritsch non-innocently considers the possibilities of radical social change that emerge through knowing and making disability differently.
---
Sensorium, VISTA and The Peripheral Visions Speaker Series Presents:
DREAMS, VISIONS, HALLUCINATIONS: DISABILITY & OTHER WAYS OF SEEING
March 6, 2019 |  4-5:30 pm in the Joe G. Green Theatre
Dolleen Tisawii'ashiiManning hosts a public conversation with Traditional Doctor and Elder Mona Stonefish on Anishinaabe dream imaging practices and their implications for critical disability studies. Manning worked with her mother and Stonefish in developing her mnidoo theory of consciousness. This interrelational understanding of perception and knowing involves a possession by these living potencies, along with an expanded understanding of vision. In this discussion, they question western conceptions of ability and disability, while also considering the debilitating impact of colonialism.
---
Rod Michalko – "Blindness Meets the Devil" &
Devon Healy – "The Feel of Blindness"
4:00-5:00pm
Venue: The Sensorium Loft
4th Floor, Goldfarb Centre for Fine Art at York University
We are excited to announce the second event in the Peripheral Visions: Critical Disability Arts Perspectives on Vision, a series of public talks, conversations and masterclasses. Join us next week as Peripheral Vision Lab, Sensorium and VISTA welcome Rod Michalko and Devon Healy for an engaging afternoon of public talks. Rod Michalko will be presenting "Blindness Meets the Devil" a paper which explores blindness and how it meets itself, Devon Healy will be presenting "The Feel of Blindness" a paper which examines the feeling of difference in the body which illuminates blindness.
---
Georgina Kleege: "Blind Self Portraits: Remaking the Image of Blindness"
We are delighted to announce the launch of Peripheral Visions: Critical Disability Arts Perspectives on Vision. This series of public talks, conversations, and master classes—a collaboration between the Peripheral Visions Lab, Sensorium, and VISTA—explores innovative and nuanced perspectives on vision circulating in leading-edge scholarship on critical disability arts.
The series will begin on Wednesday, January 16 with an exciting talk by University of California, Berkeley Professor Georgina Kleege.
In this lecture, Kleege explores the ways blindness and visual art are linked in many facets of the culture, speaking from her position as the blind daughter of two visual artists. Due to this background, she claims to know something about art, but recognizes that this claim challenges cultural notions that conflate seeing with knowing. She examines the ways blindness has been represented in philosophy, visual culture, and cognitive science, showing how these traditional understandings of blindness rely on an over-determined, one-to-one correspondence between touch in the blind and sight in the sighted, as if the other senses and other forms of cognition play no role in perception. Unfortunately, this reductive image of blindness often influences the design of museum access programs for the blind, including touch tours and verbal description of art. Kleege places these representations in conversation with autobiographical accounts by blind people, especially blind and visually impaired artists.
Faculty and graduate students are also welcome to participate in a Master Class at the Sensorium Loft on Thursday, January 17, from 11:00am-1:00pm. To sign-up for the Master Class, please RSVP to: pvl@yorku.ca
---
Past Talks + Lectures
Graduate Colloquium with Scott Hessels
Mediated Earthworks: Natural Force and New Media Art
Friday, October 25, 2019 | 1:00PM-2:30PM
MDes Lab in the Department of Design, 
(Room #4023 Victor Phillip Dahdaleh Building)
POP UP Exhibition: Sensorium Flex Space
Wheelchair accessible | Full access details sensloft@yorku.ca
 
In this graduate colloquium Scott Hessels will present his sculptural and installation work that incorporates natural forces either directly or through sensor technologies and place his exhibited kinetic works in a context of earthworks and sustainability awareness. This will be followed by graduate studio visits with six students.
To register for this event please email sensinfo@yorku.ca
---
Scott Hessels' Artist Talk in Conversation with Regina Lee
Too Big To See: Visualizing Aerial Traffic
Thursday, October 24, 2019 | 5:00PM-7:00PM
The Sensorium Research Loft (Room M333, 4th Floor CFA)
POP UP Exhibition: Sensorium Flex Space (GCFA Room 326)
Wheelchair accessible | Full access details sensloft@yorku.ca

Artist Scott Hessels will discuss the urgency and difficulty representing the entire technosystem of hardware in our skies, showing videos and models from 15 years of research as 'Celestial Mechanics'. Regina Lee will present images and research in developing nano satellites and addressing the issues of debris in space.
Scott Hessels is an American filmmaker, sculptor and media artist based in Hong Kong whose artworks explore new relationships between the moving image and the environment. He has mixed cinema with emerging technologies including sensors, robotics, GPS, and adaptive materials, often partnering with key science organizations. His films and new media installations have shown internationally in museum exhibitions focusing on both technology and fine art.  His recognitions include patents, references in books on new media art, and coverage in cultural media like Wiredand Discover.  He is also executive producer of the Extreme Environments Programme which organizes art/science expeditions to environmentally significant sites.
Professor Regina Lee is Lassonde's Associate Dean for Research & Graduate Studies and Associate Professor of space engineering at the Department of Earth and Space Science and Engineering, Lassonde school of engineering.  In her research she develops microsystems technologies for space applications . Her current research focuses on developing nanosatellite attitude sensors and payloads.
---
Crooked Beauty
Screening and Artist Talk with Ken Paul Rosenthal 
Tuesday, October 8, 2019
Screening: 5:00-5:45pm | Nick Mirkopoulus Screening Room (Accolade East 004)
Artist Talk: 6:00-7:00pm | The Sensorium Research Loft (Room M333, 4th Floor CFA)
Wheelchair access | Full access details – sensloft@yorku.ca 
Join us Tuesday, October 8th for the screening of Crooked Beauty in the Nick Mirkopoalus Screening Room, followed by an artist talk with artist, educator and filmmaker Ken Paul Rosenthal in the Sensorium Research Loft.
"Ken Paul Rosenthal is an independent filmmaker and educator. His recent films explore the geography of madness through the regenerative power of nature, urban landscapes, home movies, and archival footage from social hygiene films. His early work employed alternative photochemical and bacterial processes, direct manipulation techniques, and multiple projection performance. Ken is the recipient of a Kodak Cinematography Award, numerous festival awards, and is recognized for his media work in mental health advocacy. He holds an MA in Creative & Interdisciplinary Arts, an MFA in Cinema Production, and has taught film as a means of cultivating personal vision and community in workshops and universities in North America and abroad."
Crooked Beauty is the recipient of multiple awards including Grand Prize, Best Documentary Short at the US Super 8 Film & Digital Video Festival, First Place International Documentary Short at the FICSAM Mental Health Int'l Film Festival and Best Documentary Short at the Mendocino Film Festival.
This event is free and open to the public, light refreshments will be provided.
RSVP to sensinfo@yorku.ca
---
Research Talk with Heather Barnett and Physarum polycephalum
We are pleased to invite you to a series of events featuring interdisciplinary artist Heather Barnett and Physarum polycephalum. During her visit, Barnett will present her recent research, will conduct a workshop, and will explore the city of Toronto, inspired by the nonhuman perspective of this organism, also known as slime mould.
Wednesday, March 27, 2:00pm – 3:00pm
Sensorium Research Loft (M333)
4th Floor, Joan & Martin Goldfarb Centre for Fine Arts
York University
The slime mould (Physarum polycephalum) is a bright yellow amoeba that possesses primitive intelligence, problem solving skills and memory. It is highly efficient at forming networks between given points and has been used to map the worlds' transport networks, migration routes, and desire paths. Most notably, in 2010 it accurately replicated the Tokyo suburban rail network. The slime mould is also quite beautiful, the branching patterns reminiscent of forms seen at varying scales within nature, from blood vessels to tree branches, from river deltas to lightning flashes. It can learn about its environment, remember where it's been and navigate through complex territories – all without any sensory organs and not a single neuron to its name.
Heather Barnett's art practice engages with natural phenomena and complex systems. Working with live organisms, imaging technologies, and playful pedagogies, her work explores how we observe, influence and understand the world around us. Recent work centres around nonhuman intelligence, collective behaviour, and knowledge systems, including The Physarum Experiments, an ongoing 'collaboration' with an intelligent slime mould; Animal Collectives collaborative research with SHOAL Group at Swansea University; and a series of publicly sited collective interdisciplinary bio/social experiments, including Crowd Control and Nodes and Networks.
This event has been made possible thanks to the support of the School of Cities and New College (UofT), and is a collaboration between ArtSci Salon, Sensorium, the Research Centre for Creative inquiry and Experimentation, the Departments of Computational Art and Visual Art & Art History at York University. Research for this event was supported by the Social Sciences and Humanities Research Council of Canada. ArtSci Salon is an interdisciplinary program hosted by the Fields Institute for Research in Mathematical Sciences. LASER – Leonardo Art Science Evening Rendezvous is a project of Leonardo® /ISAST.
---
Lecture | 2016 (Doug Van Nort)
Wendy Michener Lecture: Pauline Oliveros and Ione
Internationally-renowned composer Pauline Oliveros and playwright Ione presented their past work and an augmented reality opera. Later in the evening, the duo were joined by cellist Anne Bourne and Sensorium Interim Director Dr. Doug Van Nort, for performance as part of the Music Gallery's major festival for the year, X-Avant.
---
Talks | March – April 2016
Sensorium Speaker Series: Alternative Gaming
Sensorium co-presented with AMPD a speakers series centered on alternative gaming. Speakers included Dr. Partrick Jagoda (University of Chicago) and his talk "Alternate Reality Games as Cultural Probes: Design, Experiment & Collaboration," Dr. Celia Pearce (Northeastern University) and her talk "Adventures in Play, Creativity, and Innovation," Cindy Poremba (Sheridan) and her talk "Points for Realism: the Eclectic Role of Captured Media in Video Games," and Dr. Kishonna Grey (Eastern Kentucky University) and her talk "Beyond Identity and Diversity: Examining the Struggle for Justice and Equity in Gaming Culture."
---
Talk | February 2016 (Mark-David Hosale)
Art Research and Practice: An Experimental Endeavour, a lecture by Bio Artist Marta de Menezes Calendar Add to Calendar

Organized by Sensorium member Mark-David Hosale and his lab, n-D:: StudioLab, a free public lecture by Portuguese bio artist Marta de Menezes explored the multiple possibilities of artistic approaches that can be developed in relation to Art and Biology in contemporary art practice and research. A special emphasis was placed on the work developed by Menezes throughout her career in the development of collaborative art and biology projects where the artist has to learn some biological research skills in order to create artwork.
---
Talk | November 2015
Di Mainstone 
Held in the Digital Media Lab, digital media artist Di Mainstone's talk was sponsored by York University's Digital Media Program. The artist spoke about her most recent project, Human Harp, a clip-on instrument that transforms suspension bridges into giant harps.
---
Lecture | 2014
Wendy Michener Lecture: Natalie Jeremijenko
Keynote lecture by internationally acclaimed artist, engineer and inventor Natalie Jeremijenko. By the Faculty of Fine Arts in association with the Situating Science Seminar Series of the Science and Technology Studies Program.
---
Talk + Screening | 2014
Michael Snow
Sensorium hosted an afternoon and screening with Canada's most celebrated media artist, Michael Snow, in conversation with 3D digital design pioneer Greg Hermanovic, co-founder of Side Effects Software and Derivative TouchDesigner, who is now one of FFA's Industry Partners. The afternoon was moderated by Visual Arts Professor and Sensorium member Nell Tenhaaf.
Past Collaborative Initiatives
Games Night is a reoccurring event co-organized by the York Popular Culture Working Group, Sensorium: Centre for Digital Arts and Technology and the Department of Computational Arts. The evening aims to encourage discussions of digital practices in popular culture by engaging faculty and students in the experience of play.
Games Featured will include: 
Journey: A multi-award winning indie adventure game developed by Thatgamecompany and published by Sony Computer Entertainment. In Journey, the player controls a robed figure in a vast desert, traveling towards a mountain in the distance. Other players on the same journey can be discovered, and two players can meet and assist each other, but they cannot communicate via speech or text and cannot see each other's names until after the game's credits. The only form of communication between the two is a musical chime, which transforms dull pieces of cloth found throughout the levels into vibrant red, affecting the game world and allowing the player to progress through the levels. https://thatgamecompany.com/journey/
Everything: An interactive experience where every object in the Universe is a playable character – from animals to planets to galaxies and beyond. Travel between outer and inner space, and explore a vast, interconnected universe of things without enforced goals, scores, or tasks to complete. Everything is a procedural, AI-driven simulation of the systems of nature, seen from the points of view of everything in the Universe. https://store.steampowered.com/app/582270/Everything/
Untitled Goose Game: It's a lovely morning in the village, and you are a horrible goose. Made by House House and friends, and published by Panic. https://goose.game/ 
Manifold Garden: Rediscover gravity and explore an Escher-esque world of impossible architecture. Witness infinity in first-person, and master its rules to solve physics-defying puzzles. Cultivate a garden to open new paths forward, where an eternal expanse awaits. https://manifold.garden/#home  
The Quiet Year: The Quiet Year is a map game. You define the struggles of a community living after the collapse of civilization, and attempt to build something good within their quiet year. Every decision and every action is set against a backdrop of dwindling time and rising concern. The game is played using a deck of cards – each of the 52 cards corresponds to a week during the quiet year. Each card triggers certain events – bringing bad news, good omens, project delays and sudden changes in luck. At the end of the quiet year, the Frost Shepherds will come, ending the game.  https://buriedwithoutceremony.com/the-quiet-year 
---
---
Independent Collaborative Initiative | April 2015 (Aleks Kaminska)
Cultures of Light from Sun to Screen
Sensorium collaborated on a successful summer graduate course taught by MITACS/Sensorium Postdoctoral Fellow, Dr. Aleksandra Kaminska. Cultures of Light from Sun to Screen was an interdisciplinary workshop devoted to thinking about light in relation to our visual cultures and material practices, exploring the relationship between optics and vision.
Course description:
This intensive summer course is devoted to thinking about light in relation to our visual cultures and material practices, continuously exploring the relationship between optics and vision. Derrida described light as the "founding metaphor of Western philosophy"; it is the medium that allows us to see, but that also transforms the way that we see by compelling us to develop practices and technologies that extend our vision. This course explores different epistemological and phenomenological dimensions of light and how they have historically shaped our vision, perception, and knowledge, transformed our landscapes, formed our media technologies, and engaged the arts in myriad ways. The analytical framework developed in the course draws upon an interdisciplinary selection of writings from media studies, visual culture, philosophy, science and technology studies, and film and photography.
---
Summer Institute | May – June 2014 (Janine Marchessault)
ARCHIVE_MEMORY_DATABASE
Sensorium co-presented the 2014 Summer Institute devoted to ARCHIVE_MEMORY_DATABASE with the Graduate Program in Cinema and Media Studies funded through the Norman Jewison Lecture Series. Taught by Sensorium's Inaugural Director, Janine Marchessault, the summer graduate course was interdisciplinary and featured three well attended public lectures and a master class with William Uricchio, Professor of Comparative Media Studies at MIT and Principal Investigator of MIT's Open Documentary Lab and Game Lab. The final lecture was held downtown at TIFF Bell Lightbox and was a collaboration with TIFF's Higher Learning program.
Course description:
The 2014 Summer Institute in Film is devoted to thinking about archival cultures in relation to what some have called "the data base imaginary" (Vesna, Dietz, 2007). This intensive summer course will investigate the epistemological and phenomenological boundaries of post-representational and database cultures: from traditional information management platforms developed for museums to the complex interfaces in popular games like GTA 5, to big data analytics and the promises of Web 3.0. The course will engage with different approaches to interactive documentaries, the "algorithmic turn" (Uricchio, 2011) and diverse kinds of play and distributed spectatorship. Students will be encouraged to develop different methodologies (research creation productions, speculative essays, media archaeologies, databases) to explore the impact of these forms on notions of history, memory and the concept of the archive.