Dr. Schem Rogerson Bader
Dr. Bader is a Mitacs Postdoctoral Fellow with York University, Archive-Counter Archive, and The ArQuives: Canada's Queer Archive. With a PhD in Communication and Culture from the Joint Graduate Program at York/Ryerson Universities and an MFA from The School of Visual Arts in New York, Schem embraces interdisciplinarity and intersections of theory and practice. Focusing on queer history, their research examines historical violence and persistence. The recent co-authored publication with Paul Long,  Media Studies: Texts, Production will be launched by Routledge, Fall 2021. Other articles include, "I, Mabel Hampton: Political Power and The Archive" (PUBLIC, 2018) and "The Idiosyncratic Archive: Queerness, Duration and Photography" (Identities: Journal for Politics, Gender, and Culture, 2018). Recently, Schem received the SSHRC Connections Grant (2021) for Indexing Resistance: The Blood & Guts of Queer Protest to coincide with Toronto Pride, June 2022. This conference brings together queer archives, archivists, artists and activists to unpack the complexities of queer resistance.  
---
Dr. Roberta Buiani
Roberta Buiani (PhD Communication and Culture, YorkU) is an interdisciplinary artist and scholar based in Toronto. She is the co-founder of the ArtSci Salon at the Fields Institute for Research in Mathematical Sciences (Toronto) and co-organizer of LASER Toronto. Her recent SSHRC-funded research creation project draws on feminist technoscience and on collaborative encounters across the sciences and the arts to investigate emerging life forms exceeding the categories defined by traditional methods of classification. Her artistic work has travelled to art festivals (Transmediale; Hemispheric Institute Encuentro; Brazil), community centres and galleries (the Free Gallery Toronto; Immigrant Movement International, Queens, Myseum of Toronto), and science institutions (RPI; the Fields Institute). Her writing has appeared on TOPIA, Space and Culture, Cultural Studies, The Canadian Journal of Communication among others. With the ArtSci Salon she has launched a series of curatorial experiments, by occupying and re-populating abandoned spaces and cabinets across university campuses with arts installations. She is a former fellow of the Fields Institute and a research associate at the Centre for Feminist Research at York University.
ArtSci Salon website: https://artscisalon.com      Personal http://atomarborea.net
---
 Dr. Julia Gray
Julia Gray, PhD, is a playwright and theatre director, as well as a performance and cultural studies scholar and critical social scientist; her award-winning work spans the arts, humanities, and social and health sciences to elucidate social experiences and overturn ablest cultural assumptions of aging and disability. She also works to theorize arts and critical qualitative methodologies, and she has published and presented across disciplines. In addition to being a Visiting Scholar with Sensorium, she is also an Assistant Professor, Teaching Stream at the University of Toronto Scarborough, in the Department of Health & Society, and an Academic Fellow at the Centre for Critical Qualitative Health Research at the University of Toronto. You can find more information at www.thejuliagray.ca
---
Dr. Alessandro Simari
Dr Alessandro Simari is a Toronto-based scholar whose research focuses on the cultural politics and political economy of theatre through the lens of theatre history and contemporary (Shakespeare) performance. His most recent project was on the inter/cultural and theatrical politics of performance in 'reconstructed' early modern theatres. Recent publications include a co-edited special issue of Shakespeare Bulletin on 'Labor in Contemporary Shakespeare Performance' and the forthcoming 'Marxist Keywords for Performance' for JDTC and GPS, co-written as a member of the Performance & Political Economy Research Collective. He is currently undertaking research for a book-length project on cultural histories of theatrical distraction, including examining labour politics in the production and reception of VR theatre. His prospective research into the labour politics of VR theatre claims 'distraction' as a materially-determined and sensuously-grounded conceptual framework for the reading of 'digital theatre'—a critical intervention reasserting worker subjectivity and industrial processes in performance theorisation and interpretation against prevailing spectator-centric discourses which frame digitally-augmented theatrical forms as provoking an embodied sense of 'immersion' or a hyper-attentive 'flow' state. 
---
Previous Visiting Scholars
Esra Ince Ozer
Esra Ince Ozer is a PhD student in the Department of Social Sciences at Ankara University. Her research interests include gender equality, human right and media, disability studies, social media and freedom of speech, animal rights, disadvantaged groups and media, and communication strategies.
---
Nagma Sahi Ansari, SHASTRI Research Student Fellowship, 2017
Nagma is PhD student from the AJK Mass Communication Centre at Jamia Millia Islamia University in New Delhi, with whom Cinema and Media Arts/AMPD have enjoyed a partnership for more then 25 years. Nagma's research project examines the presentation and of self through memory and performance using "selfies" and other representations on networked and social media. Her work seeks to better understand how these images of self, which circulate instantaneously across a number of platforms, are received and understood by multiple audiences in local and global contexts.
---
Dr. Hart Cohen, Visiting Scholar, 2016
Dr. Hart Cohen is Associate Professor in Media Arts in the School of Humanities and Communication Arts and a member of the Institute for Cultural and Society and the Digital Humanities Research Centre at Western Sydney University, Australia. Dr. Cohen has led three Australian Research Council Projects related to the Strehlow Collection held at the Strehlow Research Centre in Alice Springs. Two documentary films commissioned by Public Television in Australia have been made in relation to these projects: Mr. Strehlow's Films (SBSI 2001) and Cantata Journey (ABC TV 2006) with a third film recently completed titled, Ntaria Heroes. Hart has joined the research team on the SSHRC project, Patterns that Connect: Re-curating Edmund Carpenter's Anthropology Media Studies. Hart Cohen is co-author of Screen Media Arts: An Introduction to Concepts and Practices for Oxford University Press (2009) and is editor of the Global Media Journal/Australian Edition: 2007-present. He has a sole-authored book placed with Talyor and Francis titled, The Strehlow Archive: Explorations in old and new media due out in 2017.
---
Lizzy Pournara, Visiting Scholar, 2016
Lizzy Pournara is a Ph.D. candidate in the Department of American Literature and Culture, School of English, Aristotle University of Thessaloniki. She also holds a BA in English Literature and Language (2011) and an MA in English Literature (2013). Her research interests focus on contemporary American poetry, multimodality, artists' books, digital literature, book-making and creative writing. Her Ph.D. thesis revolves around the aspect of multimodality in contemporary poetic practice and investigates the impact of inscription technologies on creative writing practices and formation of reading habits.
---
Cristian Villavicencio (b.1984, Quito-Ecuador) Lives and works in Bilbao, Spain. Artist and Researcher, is currently carrying out his Ph.D. project titled The materiality of the moving image, at the University of the Basque Country supported by a Ph.D.grant from the Department of Education, Universities and Research, Basque Government. His artwork has been exhibited in museums of the Basque Country, Spain like Centro Cultural Montehermoso Kulturunea (2013), Guggenheim Bilbao Museum (2013) and internationally in Ars Electronica Festival (2014) in Linz – Austria, and BIM (Moving Image Biennale, 2013) in Buenos Aires – Argentina. In 2015 Cristian has been granted the "Artist in Gallery Award" at Premio Arte Laguna in Venice Italy and the second Prize at Ertibil Bizkaia, Spain (Young Artist Award). He had a three months visiting research period at Interface Cultures Department at Linz – Austria (2014) and an artist in residency period at MA Studio in Beijing China (2012).
---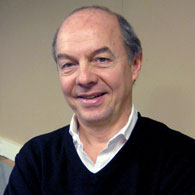 William Uricchio is Professor of Comparative Media Studies and Principal Investigator of the MIT Open Documentary Lab and the MIT Game Lab. He is also Professor of Comparative Media History at Utrecht University and a fellow of the Institute for Advanced Study (Lichtenberg-Kolleg) at Georg-August-Universität Göttingen. He has been awarded Humboldt, Guggenheim and Fulbright fellowships, and most recently, the Berlin Prize. His research interests include revisiting the histories of old media when they were new; algorithmic enablements of participatory cultural forms; the history and future of television; cultural identities and the question of "Americanization" in the 20th and 21st centuries. His publications include Reframing Culture (1993); We Europeans? Media, Representations, Identities (Chicago/Intellect, 2008); Media Cultures (Heidelberg, 2006). He is currently completing books on the deep history of television; on history-based games; the playing of history and historiography after post-structuralism; and editing a collection of essays for the British Film Institute entitled Many More Lives of the Batman.